I have recently contributed to Lancaster University School of Design's Pedagogy and Generative AI Whitepaper - you can download it here.
This was part of a working group brilliantly led by Dr Roger Whitham - thanks and gratitude to Roger for managing to organise the team, collate our thoughts, and assemble/produce the whitepaper.. fantastic job.
The whitepaper is intended to provide a briefing for our colleagues at the School of Design. It includes an overview of the technologies, some examples of generative AI in use, how we expect the technology to impact teaching, and some possible strategies for how to adapt our teaching in the short term. Some key takeaways are:
Promoting awareness, creativity, understanding, integrity and transparency in our students use of AI
To support that, discussing how AI could be used at the start of courses
When and if AI is used, asking that students include an AI appendix, similar to a bibliography, but focused on how AI has supported the working
While many institutions (e.g., the UK's Russell Group of Universities) are conducting similar initiatives, a strength of our whitepaper is it's simple, clear and specific recommendations. The whitepaper also represents a 'humbleness' in the team that worked on it, that accepts we don't really know what it will be like when these technologies, which are currently developing extremely quickly, become everyday and widely adopted.
The whitepaper is based on work that we have already published elsewhere - Implications of Generative AI on Higher Education Assessment and Design Research - which explores the issues that generative AI raises for teachers, and considers what resonant issues Design Researchers might have to contend with.
You can download the Design Pedagogy Generative AI Whitepaper here.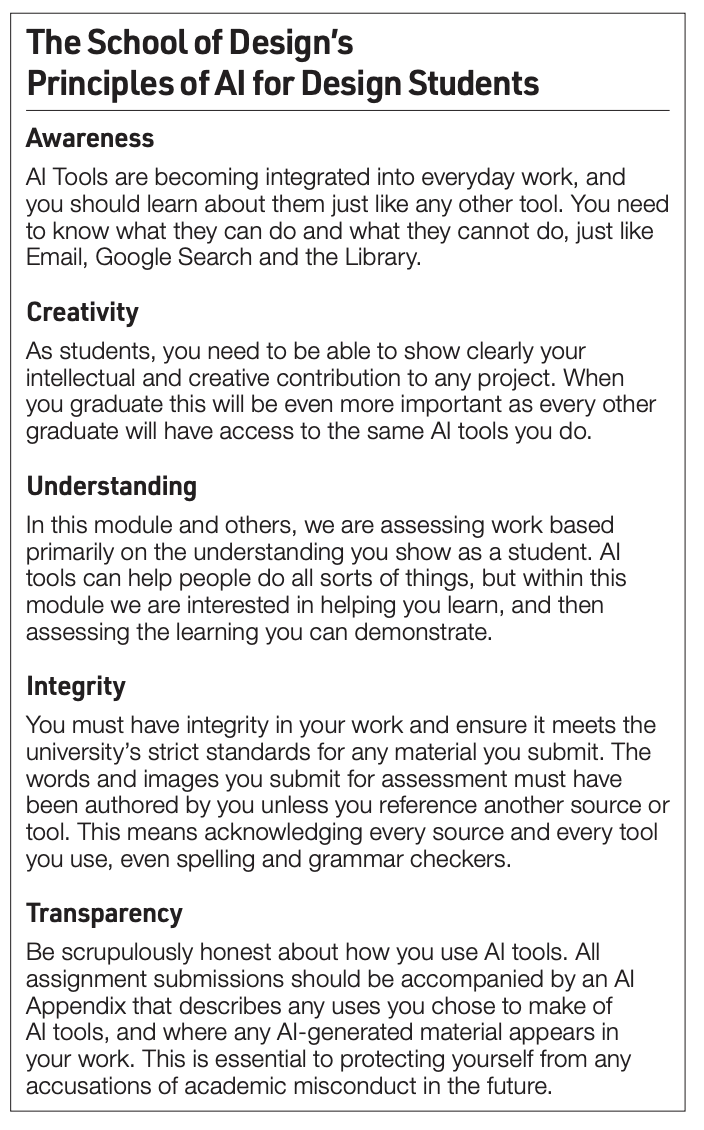 Extract from the whitepaper
The whitepaper was created to assist our colleagues in the Lancaster University School of Design, we note that this does not reflect an official policy of Lancaster University.
Although our focus is on design, I think it's highly likely that some of the principles in this work will be transferrable to many other domains, if you would like to discuss it or talk the ideas in the whitepaper or would like to adapt it or use the ideas elsewhere, please do reach out.